Dunes Properties Opens in Mount Pleasant, SC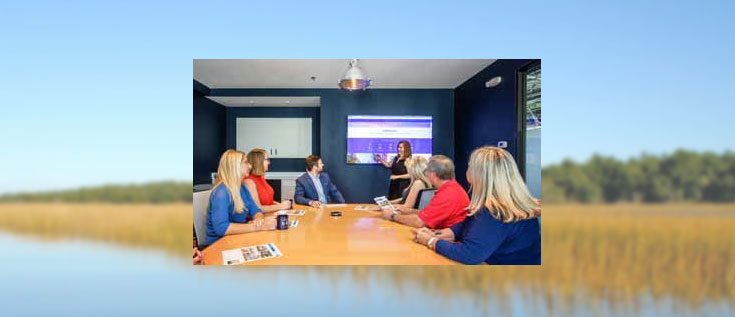 Dunes Properties recently settled into its new digs at 835 Coleman Blvd. in Mount Pleasant, and Marketing Director Traci Magnus said the team couldn't be more pleased with the location. Situated upstairs from the Granary, the real estate, vacation rental and property management company expanded to Mount Pleasant to keep up with the fastest-growing city in the Charleston area. The 2,900-square-foot office marks the fifth location for Dunes Properties, which already boasts offices in Isle of Palms, Folly Beach, Bohicket Marina and in the heart of the historic King Street shopping district in downtown Charleston.
When I visited in early April, they were preparing for their "Biscuits and Bloody Marys" grand opening brunch on April 21.
Founder and President Randy Walker said the new office was a natural progression, with the integration of agents from two Mount Pleasant real estate companies, GQRE and Places LLC, over the last several years. This, coupled with the surge in people moving to the Charleston area, and specifically to Mount Pleasant, made the decision a no-brainer.
The Coleman location is the ideal spot in close proximity to the beaches, downtown Charleston and Interstate 526.
"Our agents are so happy to have this space in the middle of the area they serve," said Magnus. "While this office was under construction, the Mount Pleasant team shared our Isle of Palms office. This was a great resource for the agents, but nothing beats having your own space."
Sales agent Kristen McFann-Johnson loves that the new office is "very open and collaborative." Agent Michael Hagony said, "It's nice to have a more comfortable and spacious arrangement where you can work independently or communicate with fellow agents easily."
The office features an ultramodern vibe and an interactive floor plan designed to be consistent with the company's culture of "collaboration and teamwork," according to Magnus.
An open common area provides agents with stand-up desks, intimate meeting areas and phone booths for more private calls. Also included are flexible private offices where agents can meet with clients. Two conference rooms are equipped with state-of-the-art technology to showcase virtual home tours to prospective buyers. The office is open Monday through Saturday from 9 a.m. to 5 p.m. and Sunday from noon to 4 p.m.
History and Hugo
Dunes Properties began with a single office and three employees in 1989, concentrating in investment and beach properties on the barrier islands. The company has expanded to cover the entire Charleston-area coast.
Although launching during the same year Hurricane Hugo ravaged the area was a major challenge, Walker credited a little bit of good-old fashioned luck with helping Dunes Properties weather the initial storm to achieve success.
FEMA provided them financing to stay up and running, and they haven't stopped running since. Just how successful are they? The numbers don't lie.
Dunes Properties ranked fourth in sales volume by company in Charleston County in both 2016 and 2017, despite having a relatively small group of agents – only 75 – compared with other companies near the top of the list.
Moving forward, Dunes Properties intends to focus on their current coverage area, with no plans for future expansion, according to Magnus.
"For years, our tagline has been 'Nobody knows the Charleston coast better.' We intend to concentrate on developing these five offices to ensure we live up to our mission for years to come," she said.
To learn more about Dunes Properties, visit www.dunesproperties.com/area/mount-pleasant or call 800-476-8444.
By Colin McCandless