The Market At Oakland, Mount Pleasant Shopping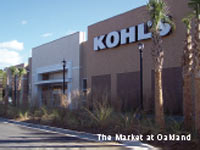 The site of a former working plantation dating back to 1696, the Market at Oakland promises to be one of East Cooper's most popular retail shopping districts. Following the design of Towne Centre and Belle Hall, the Market at Oakland is an outdoor, mall-type center anchored by a Super Wal-Mart and Kohl's department store. In between will be a tree-lined pedestrian shopping village.
In addition to Wal-Mart and Kohl's, a branch of Wachovia bank is already in operation. New stores include Goin' Postal, GameStop, Bear N' Friends Toy Shop, Rita's Italian Ice, WineStyles and Tresses.
The Market at Oakland will cover approximately 75 acres and include about 415,000 square feet of retail space and about 36,000 square feet of office space. The remaining 225 acres of historic Oakland Plantation will be set aside as a conservation easement.
Belle Hall Shopping Center | Coleman Blvd & The Old Village | The Market At Oakland | Towne Centre