Paradise Island, Mount Pleasant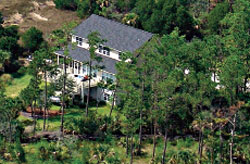 Just a few minutes north of Mount Pleasant, South Carolina, I see a sign to Paradise Island. Intrigued, I investigate as the road winds its way toward the river I know is nearby. Already I feel civilization falling away behind me. And, suddenly, I arrive at Paradise Island. It is surrounded by marsh and undisturbed forest. The deep water of the Wando River beckons as raptors soar overhead.
This is what people mean when they say they want to "get away from it all." Paradise Island is a 340-acre community offering deep-water, marsh-view and interior lots. The prices of the lots depend on the size–ranging from approximately a half-acre to slightly more than a full acre–and location. Interior lots start at around $190,000, but the prized deep-water home sites go for $575,000.
Covenants provide for homes of any size, and there is no time limit for building. Although the Fran cis Marion forest borders Paradise Island, the community has set aside additional green space that will remain in its natural state. The east end of the development includes a 1.2-acre community lot with a boat ramp and dock for residents.
A few lucky families already enjoy living in this pristine place, where they feel as though they have the best of both worlds: serene country living yet near all the conveniences of town. Excellent shopping and dining are available in Mount Pleasant, and local beaches are just a short drive away. But most times fishing and kayaking are the order of the day on Paradise Island. Just ask Gideon Murray.
"Hands down, I have the best views in Mount Pleasant," he says. "Others may live on the water, but they don't have this. ...it's naturally spectacular. Some evenings my wife and I watch the sun set over the Wando River, and I say 'pinch me' and she says 'no, you pinch me."
Murray goes on to say that "We looked at all the neighborhoods but when you turn down this road, it feels extremely comforting and relaxing."
That's the lure for many people, agrees John Popelka, who tells me the biggest "amenity" of Paradise Island is the fact that it is surrounded by the Wando River and the Francis Marion Forest.
"It's a very natural, secluded environment," he says.
While some perceive Paradise Island as being "far away," Popelka reminds me that Mount Pleasant continues to grow northward.
"It's just eight miles from where the new Super Wal-Mart will be, Wando High School and Carolina Park," he says.
Just eight miles ... but, when you're watching that sunset, you might as well be a million miles away.