5 Pierates Cruz, Mount Pleasant: Southern History Nestled in the Old Village
The appeal of this home is certainly in its decorative touches – from custom brickwork, trim work and millwork to local craftsmanship and materials – as well as awe-inspiring views of the harbor from every angle.
There are certain places where one can experience total Southern tranquility despite the traffic, noise and hustle of modern life. These quieter neighborhoods remind us of our Southern coastal heritage and the simple beauty that initially drew us to life in East Cooper and the Lowcountry. One such spot is the Old Village of Mount Pleasant.
5 Pierates Cruz, an exquisite property located in what was once a historic garden, is the perfect representation of the Old Village's beauty. With more than its share of magic, this home is located in a small subsection of "The Village" known as Pierates Cruz Gard, an area once owned by the memorable Dana Osgood and his wife Laird Branch Osgood.
Purchased by the Osgoods in the 1920s and transformed into seven lush, magnificent gardens, Pierates Cruz Gard was opened to anyone who appreciated natural Southern beauty beginning in 1943. As for the name, the couple liked the notion of "Pirates Cruise" but wanted to give the garden an antique spelling, so they spelled it "Pierates Cruz."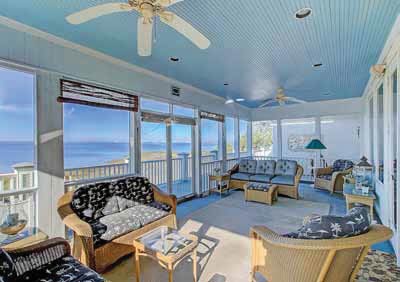 The seven gardens, each with its own theme, were named "The Sea Garden," "The Wind'll Blow," "Little Wheel," "Twyfy's Garden," "Eight Bells," "Wiggins Walk" and "Amalfi," according to the town of Mount Pleasant's website. All seven were filled with magnificent flowers, trees and shrubs, and a few of the plants were noted for their beauty. A brochure from Pierates Cruz states: "More than one hundred varieties of camellias bloom luxuriantly here; as do flowering shrubs, wisteria, azaleas, roses, tulips, pansies and violets." It is no surprise that in 1947, the Massachusetts Horticultural Society honored Mrs. Osgood with a coveted gold medal for growing new varieties of hybrid camellias.
The views of the harbor from these gardens, as well as a "pirates walk" along the edge of the water, ensured the popularity of the Osgood abode, and Pierates Cruz Gard thrived as a botanical wonderland until the grounds were closed in 1959. The land was later divided into 13 homesites, including 5 Pierates Cruz.
"This home offers a true sense of old Charleston sophistication," remarked Dan Pape, listing agent for 5 Pierates Cruz. "Yet it incorporates modern features, rich upgrades and a more open floor plan for its day."
5 Pierates Cruz is a testament to Lowcountry charm, situated on a quiet street just a few doors down from Alhambra Hall, a picturesque Mount Pleasant landmark. The street is paved not with cement but with finely ground stone.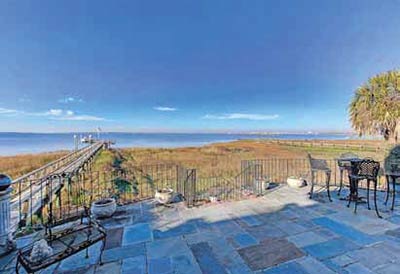 "From the time you drive up to this stunning home, you will be greeted by the grand two-story columns gracing the front, along with the intricate brickwork and meticulous landscaping," Pape said.
Inside, 5 Pierates Cruz offers almost 6,000 square feet of artfully designed space. Enjoy the elegant living room and dining room, complete with a fireplace and beautiful all-brick staircase. For the ultimate in coastal relaxation, there are two other stunning sitting areas to choose from: an upstairs great room with another fireplace, screened porch access and panoramic views of Charleston Harbor; as well as a downstairs family room with a breathtaking wall of windows opening up to the home's unique bluestone terrace.
For those who appreciate lavish kitchens and baths, 5 Pierates Cruz is "bathed" in luxurious touches. The home's gourmet kitchen is open to the family room and features granite countertops, a gas stove, double ovens, a dumbwaiter to the upstairs and an abundance of cabinet space. Two masters, one upstairs and one down, complete with adjoining baths and impressive closets, as well as three bedrooms upstairs with en suite baths, ensure ample privacy and space for visiting family members or close friends.
The appeal of this home is certainly in its decorative touches – from custom brickwork, trim work and millwork to local craftsmanship and materials – as well as awe-inspiring views of the harbor from every angle. Cherished Lowcountry landmarks, such as Fort Sumter, Morris Island, Sullivan's Island and the Ravenel Bridge, all are visible from the porches and the grounds. Enjoy a cup of tea or a glass of wine out in the lush gardens or on the private dock. Truly, there is no finer lifestyle than 5 Pierates Cruz for those who desire the beauty of our coastline and the splendor of our Southern history.
To schedule a showing or learn more about 5 Pierates Cruz, contact
Team Pape: Dan Pape, Realtor® & Laura Pape, Realtor®
(843) 870-4359 or [email protected]