Marais at Seaside Farms, Mount Pleasant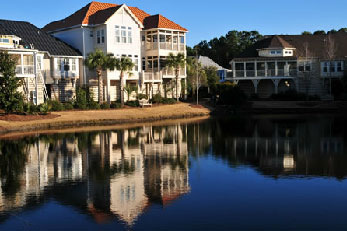 Marais at Seaside Farms is located in beautiful Mt. Pleasant, S.C., just minutes from Isle of Palms. The convenient proximity of this intriguing marsh community offers residents an "atypical architectural design," said Gene Styles, a resident of Marais at Seaside Farms. Constructed by Gulf Stream Construction Company, a subsidiary of the developer, THE BEACH COMPANY, Marais at Seaside Farms offers a relaxing lifestyle that is unique to residents and the community of Mt. Pleasant.
"Marais is a place where we have the best of both worlds," said Styles.
"Our lifestyle is typical of retirement living. We want standard amenities, plus closeness to the beach, golf, shopping and other forms of recreation," said Styles. "The convenience and availability of these factors, combined with an affordable price, were primary considerations."
The Styles family chose a three-bedroom, three-bath design on two levels.
"One bedroom and bath are located on the main floor with the kitchen, dining room and family room. When guests visit, it is important for them to feel comfortable and to have a suite all to themselves. We chose to purchase a town home because we did not want the responsibility of exterior upkeep and maintenance."
Another resident of Marais enjoys the "close proximity to the beach and the easy access to Highway 17."
"Marais is a very quiet community with a style of its own," she said. This Marais resident has enjoyed living there for more than a year. The unusual style of Marais' town homes, with the feel of being more like a home than a condo, is what attracted her. She chose the Drayton, a single level floor plan, complete with three bedrooms and two-and-a-half baths. The 17-foot ceilings in the great room and full-length and transom windows make it feel spacious.
"The interior has pine floors, with the exception of the bedrooms. The ceilings are high and the walls are soundproof. I have never heard my neighbors. THE BEACH COMPANY and Gulf Stream did an excellent job developing and constructing Marais. I am proud of my town home and I love being a part of such a safe and lovely community," said the Marais owner.
Available upgrades include decks, screened porches, fireplaces, built-in cabinets, granite counter tops, and sunrooms. A grand pool and bathhouse are available for exclusive use of Marais' owners. One of the many intriguing features of the Marais at Seaside Farms development is that each unit has its own personality and charm.
The area is tastefully landscaped and residents are not responsible for ground maintenance. For many residents, this is a critical factor since taking care of a lawn and gardening can be tedious tasks. Marais residents are most pleased with their life style in Marais at Seaside Farms.
"We have the best of both worlds with our town house at Marais, which is our primary residence," Sayles said. "We enjoy the mix of residents professionals, young families and retired. Marais at Seaside Farms is a wonderful place to live and enjoy a relaxing lifestyle."