Snee Farm, Mount Pleasant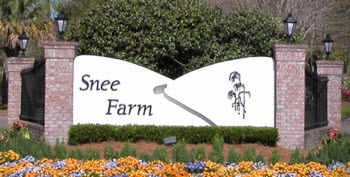 Nearly 40 years ago, when the first residents moved into the new homes in Snee Farm, many people shook their heads in amazement. Why would anyone want to live so far away? Today, Snee Farm, located on Highway 17 just north of what is now the Isle of Palms Connector, is almost in the center of the town of Mount Pleasant and is convenient to literally everything, including excellent schools, shopping, medical care and the beach.
Long before developments such as Park West, I'on and Brickyard appeared, Snee Farm was considered to be one of the most desirable places in Mount Pleasant to live. It is an established, tree-lined community consisting of a variety of homes that range in size from 1,000 square feet to more than 4,000 square feet. Ventura Villas is a neighborhood of condominiums situated near the main entrance of the community and convenient to the clubhouse and golf course. The exteriors are clean and modern and the interiors are spacious. Prices tend to be in the upper $100s to low $200s for two- and three-bedroom homes.
Single-family starter homes are available in Snee Farm, with prices in the mid-$200s to the low $300s. Styles vary from traditional brick homes to contemporary wood siding, and there also is a section of homes designed to emulate the historic Charleston single house. Snee Farm also includes large executive homes that offer extras such as media rooms, game rooms, wet bars, skylights and much more. Membership in the Snee Farm Country Club is offered at several levels, from a social membership that includes dinners, parties and other social activities to a full membership that provides access to the golf course, tennis courts, three pools, pro shops and the Low Country Café. But even more than lovely homes and amenities, Snee Farm offers a sense of history since it is built on part of the original Snee Farm Plantation property. Once the roaming grounds of mastodons, mammoths and other prehistoric animals - the bones of a mastodon were found during construction of the golf course in 1969 - and settled later by American Indians, the land was granted to Nathaniel Law by King William III of England in 1698. Originally more than 1,100 acres, the property, after changing hands several times, was given to Col. Charles Pinckney in 1754 as a fee for legal services.
Legend has it that a skirmish took place in the manor section of Snee Farm during the Revolutionary War and, yes, that Gen. George Washington enjoyed breakfast with Gov. Charles Pinckney (son of the Colonel) under an oak tree in 1791. The plantation was purchased by Snee Farm Golf Club in 1966, and the original Snee Farm house and surrounding properties were bought by Joyce and Guilds Hallowell, who restored the home, which was designated as a National Historic Landmark in 1974.