Mount Pleasant, South Carolina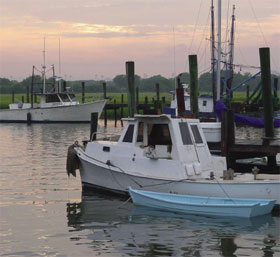 Mount Pleasant, South Carolina, is a vibrant, thriving community that is proud of its past and looking toward a bright future.
Located across the Cooper River from historic Charleston, Mount Pleasant has played an important role in South Carolina and U.S. history for more than three centuries. The many Colonial and antebellum homes in Mount Pleasant's Old Village draw tourists in large numbers, inviting them to wander the narrow, oak-lined streets and take a peek back into the town's proud past. The most well-known of the homes and buildings in this historic district is Alhambra Hall, a former ferry station that overlooks Charleston Harbor.
Originally the home of the Sewee Indians, Mount Pleasant's first white settlers, led by Capt. Florentia O'Sullivan, arrived from England in 1680. The town's name was forever etched in history on Sept. 24, 1860, when a public meeting held there produced South Carolina's first resolution of secession. Shortly thereafter, representatives of seven Southern states met in Charleston to form the Confederate States of America.
Mount Pleasant remained a small town until well into the 20th century, populated in part by Charlestonians wealthy enough to afford summer homes across the Cooper River.
As proud as Mount Pleasant is of its past, it's the city's ability to look to the future that speaks loudest. The state-of-the-art Arthur Ravenel Jr. Bridge linked Mount Pleasant with Charleston in 2005, replacing the Grace Memorial Bridge, built in 1929, and the Pearman Bridge, which opened for business in 1966.
While Mount Pleasant has experienced tremendous growth in the past decade, it also has preserved its heritage and small-town sense of community. Many people choose to live in Mount Pleasant because of the town's proximity to the area's beaches and excellent golf courses, its mild climate and nearby state-of-the-art medical facilities. Mount Pleasant also is home to some of the finest shopping in the region. Towne Centre, on busy Highway 17, offers a wide selection of goods from national and local merchants.
Picturesque Shem Creek, which bisects the city, hosts several popular restaurants and one of the last fleets of local fishing boats in the area. Residents take advantage of the fresh off-the-boat seafood sold on the docks.