205 Ferry Street, Old Village, Mount Pleasant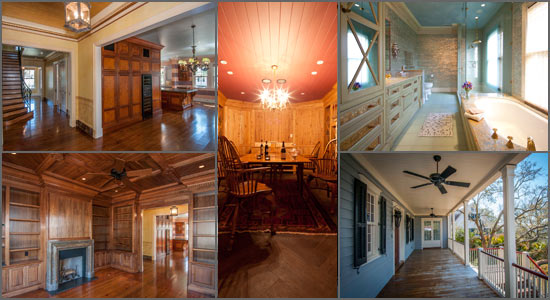 Like its sister city across the bridge, Mount Pleasant is steeped in history. The first settlers arrived in 1680 so, naturally, the town is home to many houses with "a story." 205 Ferry St., an Old Village gem now on the market, is such a house.
In its original circa 1800 incarnation, 205 Ferry St. served as a summer home for Charles Pinckney, South Carolina's 37th governor and a signer of the U.S. Constitution. Known at the time as Shell Hall, the property was a ferry depot, the only route between Charleston, Mount Pleasant and the surrounding coastal islands.
Shell Hall also housed Ronkin's Long Room, which was famously used as a Civil War armory and barracks. But, perhaps most notably, the property
provided the final quarters for the crew of the historic H.L. Hunley. Before disappearing – and later being discovered off the coast of Sullivan's Island and, in 2000, raised from her watery grave – the Hunley gained notoriety as the world's first submarine to sink a ship in battle.
In 2006, more than 200 years after the Charles Pinckney family summered at the property, the then-weathered home at 205 Ferry St. caught the eye of an interior designer from Arkansas. And the rest, as they say, is history.
"It is a fantastic home, full of the richness and love of color that mark Sydney Murphy of Sydney Murphy Design," said Realtor Rees Johnston. "Sydney and her husband, Mike, who moved here to help encourage the start of St. Peter's Church in North Mount Pleasant, have lived and traveled all over the world but truly fell in love with Mount Pleasant."
For roughly a year-and-a- half following their move to the Old Village, the Murphys poured themselves into renovating 205 Ferry down to the studs. In addition to moving the home back on the property, the extensive transformation included enlarging the home; outfitting it with hurricane-rated windows, doors and roof; and creating unobstructed views of the beautifully landscaped yard and the marsh and harbor beyond.
Inside, the home is a marriage of history and modernity. You enter the formal entrance hall by way of an old brick staircase with wrought iron railing, which leads to a library complete with custom built cabinetry and a Chesney fireplace.
Just across the hall, a professional grade, gourmet eat-in kitchen beckons with modern amenities such as dual sinks and dishwashers, a Sub-Zero fridge and freezer, a Viking 45-inch gas range, an electric wall oven and a warming drawer.
The home further boasts antique heart-pine flooring throughout, warming floors, a wine cellar and, outside, a 100-foot dock with a boatlift.
If you are looking to own a piece of history East of the Cooper, this just may be your chance. And rest assured – from Charles Pinckney to Sydney and Mike Murphy – you'll be in good company as a keeper of the home once known as Shell Hall.
For more information regarding 205 Ferry St., call Rees Johnston with Carolina One Real Estate at (843) 696-7278.
Rees Johnston, Realtor® | (843) 696-7278
Asking Price: $5,750,000 | 5,234 SQFT
4 Bedroom, 4.5 Bath