Different by Design: Quality Sets Cline Homes Apart
If you are interested in building a custom home in the Lowcountry, you should follow the path of many other homeowners in the tri-county area. A mainstay in Charleston,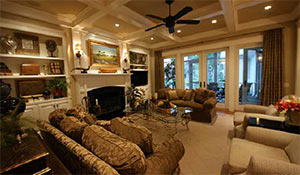 Berkeley and Dorchester counties since 2005, Cline Homes boasts about being different by design. "We looked at other builders in the area and decided not to build a custom home because it wouldn't work within our budget," said Kyle Marsteller, a former 7th grade teacher who is now a stay-at-home mom. "Then we went to Belle Hall Plantation in Mount Pleasant and saw a Cline Home. Shortly after that, Cline Homes was building our new house on Daniel Island."
Marsteller, who was pregnant during the entire building process, never once felt the stress that others told her to expect while building a new home.
"I don't recall ever once hearing the word "no" from Jeff or Ali at Cline Homes. They worked with us every step of the way and were always willing to accommodate our needs," she said.
Jeff and Scott Cline own the company. Their goal for every project is to make certain their clients are happy, satisfied and more than willing to recommend their work to friends and acquaintances.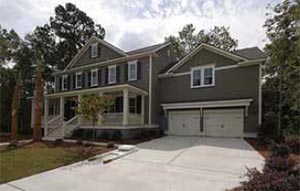 "People like to walk through other homes and wish they could copy a certain detail or arrangement. I have walked through homes and thought something was nice, but every time I walk through my door I am still saying 'Wow!'" said Marsteller, who lived in Columbus, Ohio, and Birmingham, Alabama, before moving to James Island while her home was being built. "I wouldn't change a thing about my new home."
The Clines encourage their clients to discuss their needs before work begins on their home, which gives them the opportunity to create the perfect, unique design for each homeowner.
"We have been called a hybrid builder because we have over 30 floor plans for our clients to choose from, but that is just the beginning. It is the starting point where our clients can then apply changes that fit their needs and wants," said Jeff Cline.
Chris and Tifany O'Neal recently became the proud owners of a new Cline Home in the custom home section of Carolina Park in Mount Pleasant.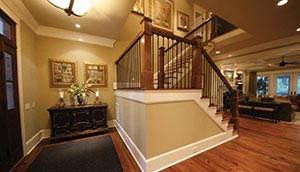 "We spoke to several builders and eventually felt like the best quality with the highest finishes for the cost would come from Cline Homes," said Chris, a certified public accountant in Mount Pleasant. "We felt Ali and Jeff cared about our home. We were so impressed with the whole process that we already recommended Cline Homes to the owners of the lot next door."
The O'Neals moved from a home off Highway 41 on the Mount Pleasant side of the Wando River to Carolina Park so they could remain in the same school district.
"Our previous home was a tract home where the dishwasher would run directly behind me while I was trying to watch the game in the living room," said Chris. "This time we wanted to pick our own finishes. My wife absolutely loves the kitchen cabinets and space. I like the space without having everyone in the same room."
One aspect of Cline Homes that sets it apart from the competition is Certified Interior Designer Ali Frick.
"She provides a comfort level which is unique in our business," Jeff said. "She holds the hand of the customer through the whole process of their selections and makes it work."
Cline Homes has a reputation for quality in the Lowcountry, but the company also is noted for its integrity. Jeff's father, Stu Cline, a veteran of the building industry for nearly five decades, has learned a thing or two about customer satisfaction.
"I always felt that respecting clients is the most important thing a company can do, and my sons were able to observe this firsthand growing up," said Stu. "Valuing people, both customers and employees, and exceeding expectations are what sets Cline Homes apart from other builders. We are thrilled that others are recognizing this. We are able to attract really good people into our company."
To learn about Cline Homes or to have them build your new custom home, visit www.Cline-Homes.com or call (843) 849-2929.